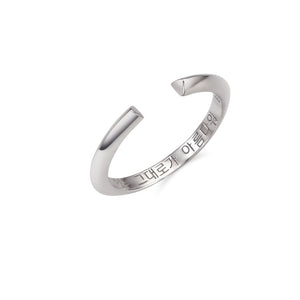 You are beautiful as you are II Ring
Sale price Price $62.00 USD Regular price Unit price / per
What better way to remind oneself that "You are beautiful as you are" than to have this on one's finger. This minimal sterling silver ring captures the true essence of 아름다워 through its minimal yet sophisticated design. This unique silver ring symbolizes and expresses the concept of beauty in its simplest and boldest form to provide you the everyday reminder that you are "있는 그대로가 아름다워."
This piece is the sequel to "You are beautiful as you are" silver ring line. This version shares the same concept and meaning of its predecessor but is designed with a more elegant and feminine feel. "넌 있는 그대로가 아름다워," ("You are beautiful as you are.") is engraved in the inner side of the band, showing only the smooth and shiny metal surface when worn, while the wearer can still keep the message resonating at heart. 
Materials: Sterling Silver
Sizes: Small (8-9 Asia Size | 4 1/2-5 US Size)
          Medium (10-12 Asia | 5 1/2-6 1/4 US Size)
          Large (13-15 Asia Size | 6 1/2-7 1/2 US Size)
           *Sizes are rough estimates, the ring is adjustable by 0.5 or 1 sizes.
Ring size guide